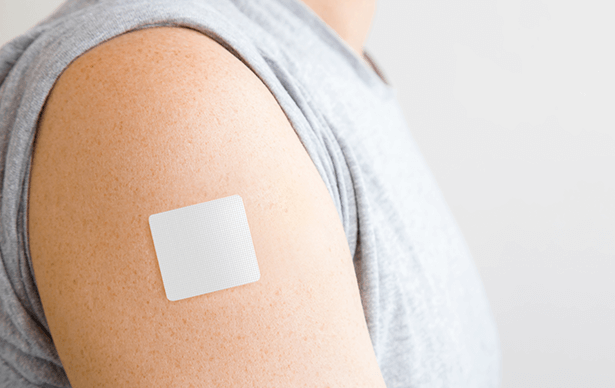 A patch a day keeps the cravings away!
About- Nicotex Patch
A Nicotex Patch is a trans-dermal/skin patch that helps you quit smoking using the principle of Nicotine Replacement Therapy (NRT). The patch when placed on your body gradually releases nicotine throughout the day. Over the 12 week period, you will gradually reduce your nicotine intake and finally get back to life without dependence on cigarettes.
Smokers are 60% more likely to abstain from smoking after using a nicotine patch1. It has a 24-hour Release system that consistently releases nicotine into your body throughout the day2. It works on the step-down dosing approach that gradually decreases the nicotine intake over 12 weeks, helping you to quit smoking1
Benefits of Nicotex Patch

24 hour release
The patch releases Nicotine into the body for 24 hours
Only one patch a day
As the patch is effective for 24 hours, you only need to wear one patch a day
Invisible to others
The patch can be worn under your clothes, which will ensure that it remains hidden from others.

Highly Effective
Smokers are 60% more likely to abstain from smoking after using the patch1
How to use Nicotex Patch

Using a Nicotex Patch to quitsmoking is both convenientand easy

Do not touch the adhesive while applying the patch
Apply one new patch every 24 hours & choose a different area for application each time
Wash hands after applying or removing the patch
Please read the instruction leaflet before using the patch

Consult your Doctor beforeusing Nicotex

Consult a doctor before using NICOTEX patch in case of the following:

If you are below 18 years of age.
If you are pregnant or breastfeeding.
If you have a heart disease or an irregular heartbeat, or if you have had a recent heart attack, as nicotine may increase your heart rate.
If you have a high blood pressure not controlled with medication, because nicotine can increase the blood pressure.
If you are allergic to any adhesives or patch ingredients or have skin problems, because you are more likely to get rashes.
If you are using non-nicotine smoking cessation drugs.
If you are taking prescription medicine for depression or asthma, as your prescription dose may need to be adjusted. For more details refer the leaflet in the pack.

Choosing a selection results in a full page refresh.
Opens in a new window.